A Summary of My Past Work
I'm on a mission to help individuals and families build happier, healthier lives by delivering fun and effective workout and creating practical  fitness, nutrition, and wellness content.
Founder of Transform With Nadia:
Digital Fitness, Nutrition, & Wellness Studio
In May of 2019 I put a plan in place to slowly build a digital fitness, nutrition, and wellness studio, while maintaining my group fitness classes at local studios in the Bay Area, California. My plan was to launch in 5 years. But in March of 2020, like so many other businesses, gyms were ordered to close. So I found myself with a ton of extra time and strong desire to share motivation and education with others in a time when so many people needed it. So, I decided to go all-in.
Digital Media Specialist at Method3 Fitness
In 2012, I made what I consider to be one of the best decisions of my life. I pursued a career path in fitness, which allowed me to share my knowledge and passion for health and fitness with hundreds of students and clients. Not only was I teaching classes and coaching clients on exercise and nutrition, I was also reaching people through blogs, videos, and social media. There's nothing more fulfilling than being able to combine your two greatest loves. For me, that's fitness and content creation. Five years later, I was offered the role of Digital Media Specialist at my home studio…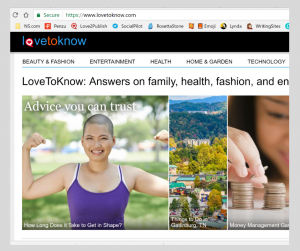 Staff Blogger at LoveToKnow.com
I started my first blog around the age of 14, back when AOL was the king of internet service providers. I regularly published snippets of fiction for a tiny audience of fellow writers who supported one another's work. Years later, as I moved through college and graduate school, I switched gears and began writing nonfiction pieces, sharing research summaries in the field of psychology, sharing my best tips and advice on exercise, self-development, and writing. Finally, in 2017, having committed myself to diving deep into the world of blogging, I landed a role as a contract blogger at LoveToKnow.com, which soon turned into a part time staff position, due to the quality of my work. Although I eventually realized that this role wasn't the right fit for me, I loved being a part of the LoveToKnow family and am proud to say that I wrote 70+ blogs in just over 6 months with them! Feel free to check them out. Just use the button below and scroll to the bottom of the page.
Social Media Coordinator at RISE 2017
I was only supposed to ATTEND the NorCal Fitness Summit (NCFS), but as the weekend rapidly approached, I noticed a distinct lack of content on the event's social channels. I wondered: What would it be like to attend the conference? How have others experienced it? Are there any live videos or photos that I can view on Facebook, Instagram, or even Twitter? I found out through the grapevine that there was no one managing the social media networks. That's when I scheduled a call with Khaled to propose… a volunteer takeover.