A Summary of My Recent Work
Sometimes you need take a round-about route to get to where you really want to be.
I used to think that if somehow I could pinpoint exactly what I wanted to do in life, the path would magically appear before me. Straight-forward. Linear. Predictable. As a professional yourself, you probably know as well as I do that the only way to figure out if a path is right for you is to get on it. I've taken a few different paths in my life, from working on a PhD in Psychology (all the way to the dissertation phase) to becoming a personal trainer/nutrition coach/fitness instructor, only to find my way back to what I would have been doing had I taken that Graphic Design internship as I was graduating from college. And yet, I wouldn't trade it for the world. I've learned a lot about myself and the world around me. I'm happy to be able to say that I've found a purpose, which is to create content that helps others feel confident about themselves and their work in the world.
Below you'll find descriptions of my most recent roles in Digital Media. Feel free to read the descriptions here. Then click the accompanying buttons for links to sample content.
NOTE 9/8/2018: THIS PAGE IS CURRENTLY UNDER CONSTRUCTION
This page is probably being built as you are reading this, so if a button doesn't work, rest assured. It should be up in the next week or two. Thank you for your patience. In the meantime, click on the tab labeled "Under Construction" for a few links you can check out.
Digital Media Specialist at Method3 Fitness
In 2012, I made what I consider to be one of the best decisions of my life. I pursued a career path in fitness, which allowed me to share my knowledge and passion for health and fitness with hundreds of students and clients. Not only was I teaching classes and coaching clients on exercise and nutrition, I was also reaching people through blogs, videos, and social media. There's nothing more fulfilling than being able to combine your two greatest loves. For me, that's fitness and content creation. Five years later, I was offered the role of Digital Media Specialist at my home studio…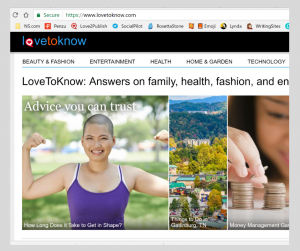 Staff Blogger at LoveToKnow.com
I started my first blog around the age of 14, back when AOL was the king of internet service providers. I regularly published snippets of fiction for a tiny audience of fellow writers who supported one another's work. Years later, as I moved through college and graduate school, I switched gears and began writing nonfiction pieces, sharing research summaries in the field of psychology, sharing my best tips and advice on exercise, self-development, and writing. Finally, in 2017, having committed myself to diving deep into the world of blogging, I landed a role as a contract blogger at LoveToKnow.com, which soon turned into a part time staff position, due to the quality of my work. Although I eventually realized that this role wasn't the right fit for me, I loved being a part of the LoveToKnow family and am proud to say that I wrote 70+ blogs in just over 6 months with them! Feel free to check them out. Just use the button below and scroll to the bottom of the page.
Social Media Coordinator at RISE 2017
I was only supposed to ATTEND the NorCal Fitness Summit (NCFS), but as the weekend rapidly approached, I noticed a distinct lack of content on the event's social channels. I wondered: What would it be like to attend the conference? How have others experienced it? Are there any live videos or photos that I can view on Facebook, Instagram, or even Twitter? I found out through the grapevine that there was no one managing the social media networks. That's when I scheduled a call with Khaled to propose… a volunteer takeover.